1. Insulation
With energy costs due to sky rocket, insulation is often the over looked factor in protecting your home from the escaping warmth in Winter or the harsh sun heating up the house in Summer. Some statistics suggest saving of energy up to 20%.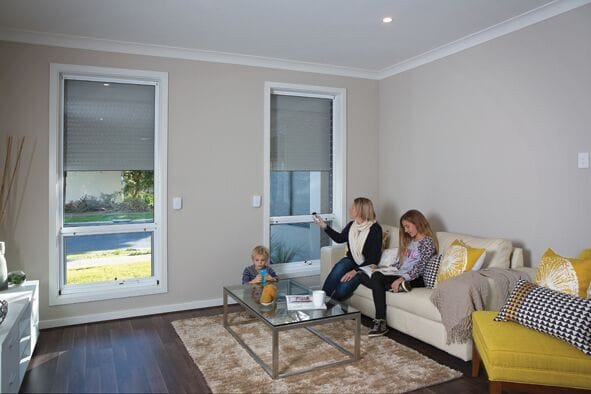 Whilst a roller shutter can completely blackout a window, making it ideal for shift workers, the biggest benefits is how much more efficient it can make your air conditioning and heating. Report of up to 10 degrees cooler in your home on a really hot day is not un-common. That's even before the air-conditioning is on!
2. Ideal for Security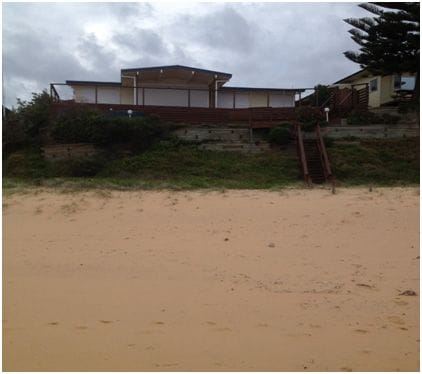 Make no mistake; the biggest enquiry reason for roller shutters we get from people is often after they have just been robbed.  It's a horrible feeling having your home and belongings exposed to an intruder.
Aluminium Roller Shutters are as much a deterrent as anything. I won't say thieves can't break in, because if they really want to get in, they will find away.  But if a thief is looking for a random house to break into they usually go for the easiest access.  Many of our clients on the Central Coast just get the roller shutters on the front windows that are facing the road.  Others get the downstairs rooms or even just their children's room, if they have a double story house and they sleep upstairs.
Aluminium Roller Shutters are ideal if you travel a lot and leave your home unattended for extended periods of time.  They are also ideal for holiday homes on the Central Coast that are locked up for winter.  They act as a deterrent as much as protection.
3. But can I get out if there is a fire?
It's very rare for our clients to put roller shutters on every window in the house. A lot of our clients only put the roller shutters on the windows that are most exposed to the noise, security, or weather, so there is always an exit point in other parts of the house.  The short answer is yes.  If a fire fighter wanted to get in they could break the roller shutter and get in.  However, at Premier Shades we also have access to the "Sensi Fire" Aluminium Roller Shutter.  This Aluminium Roller Shutter has a sensor attached to it that is noise activated.  This sensor is not connected to main power but is totally wireless. When your fire alarm goes off, the noise from it activates the Aluminium security roller shutter and it will automatically open.  The Sensi Fire Roller Shutter can only be solar powered for obvious reasons.  If it is manually operated it won't work with the fire alarm, and if it is connected to the main power and the power turns off in a fire, it will not work.  Therefore, the Solar Powered motorised roller shutter is ideal for fire safety.
4. Shift Workers need complete Darkness!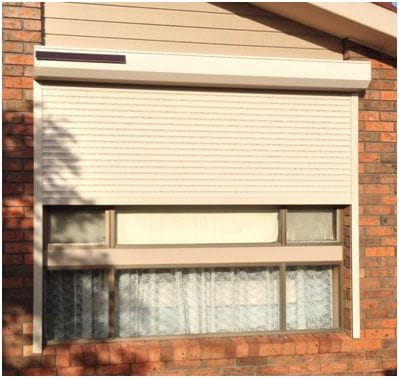 Whilst a roller shutter can completely blackout a window, making it ideal for shift workers, the other advantage is the reduction in noise.  Chronic Sleep deprivation has been linked to diabetes, heart disease, obesity and depression.  As a shift worker, you don't get a choice of when you have to sleep, so a good sleep (either day or night) is paramount to your health and wellbeing.  Investing in all the tools that will help you sleep just makes good sense.
The latest trend now is motorisation. This allows you to control the shutter from inside your home with a remote control. No electrician expense needed. No braving the weather. No even getting out of bed.  Just a push of a button and you are protected and in complete darkness.
5. Motorisation or Manual?
Most people who choose a motorised option will solar motorisation or our 12volt battery powered model because they are the most affordable option. There is no need for an electrician, and if you are renter, you can remove it and take it with you. If there is ever a power failure you will not be affected with a solar powered or battery powered shutter.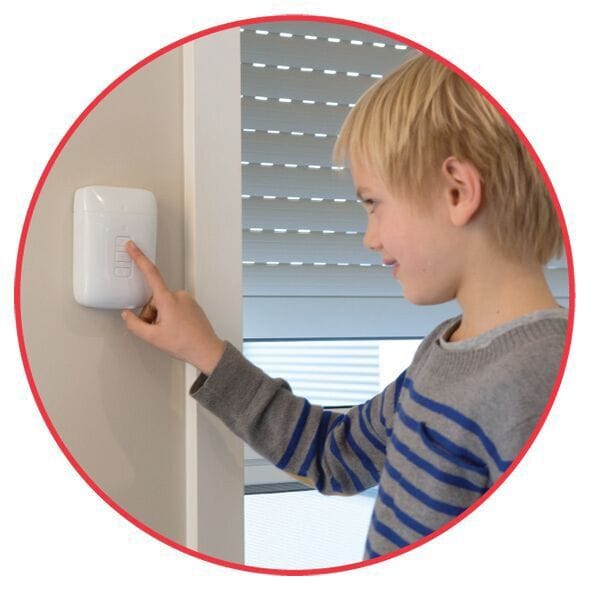 The new 240 volt hard wired models can also be sync with our Somfy Mylink phone app.  You can then control them from your phone from anywhere inside or outside the house.
Motorisation enables you to control the roller shutter with a remote control from the comfort of anywhere inside your home.  The other useful feature of a roller shutter is it not only blocks out the light, but it's great for blocking out noise, heat and cold. .  Expect to pay around $1000 including GST, installation and solar power remote control for a standard window.
If you would prefer to keep the cost down, manual operated roller shutters can be opened and closed with a strap winch or mini tape coiler. These are internally installed inside the room.
. Bush Fire Rated Roller Shutters
Much of the Central Coast is surrounded by beautiful bush.  If you are building a new home, you may need to have Basix approved BAL40 Bush Fire rated Aluminium Roller Shutters on your windows that face the bush.  This appears to be standard practice now for new homes being built in bush fire prone areas. At Premier Shades, we supply the "Fire Safe" Fire Rated Aluminium Roller Shutter as a specialised roller shutter.  They have been tested by the CSIRO at their specialised testing facilities in NSW (Report #FSZ1379) and for the purpose of building regulations in Australia, achieved a Bushfire Attack Level (BAL40) when fully closed.  Bushfire rated Roller Shutters are often required under BASIX, so check with your builder or local council.  Our Fire Safe Bushfire rated roller shutters and elements of its constructions were exposed to a radiant heat as severe as 40kW/m2, to simulate bushfire attack including both radiant heat and small flaming sources.  Fire Safe was successful in all its performance testing.  This is a specialised area of expertise in roller shutters.  We can send a consultant to see you and discuss the options with your builder or initially quote of the plan for you.